Outstanding Website at the WebAwards 2023
Square Eye & Cornerstone Barristers
The Square Eye and Cornerstone Barristers teams are delighted to be awarded Outstanding Website at the 2023 WebAwards (Legal category) for their work on the Cornerstone website.
The site is the result of a six-month project in 2022 which saw a redesign and rebuild of Cornerstone's old website and an overhaul of their digital assets.
The WebAwards  program is the longest running annual website award competition dedicated to naming the best Web sites in 96 industries while setting the standard of excellence for all website development.  Judges include senior management, marketing and digital executives from companies like Microsoft, Yahoo!, The Kennedy Center, Warner Bros, Xerox, Adobe and many universities.
Cornerstone Barristers is delighted that the hard work, creativity, and attention to detail that our team and Square Eye put into this project have been acknowledged in the premier award recognition programme for web developers. Our new website now better reflects the strength and depth of Cornerstone as a leading public law, planning, property, housing and climate litigation set.
The primary goals for the project included:
A refresh and modernisation of the site design and messaging, with something 'unique' to reflect the personality of chambers;
Migration from an old content management system to WordPress, and numerous improvements in the site administration process.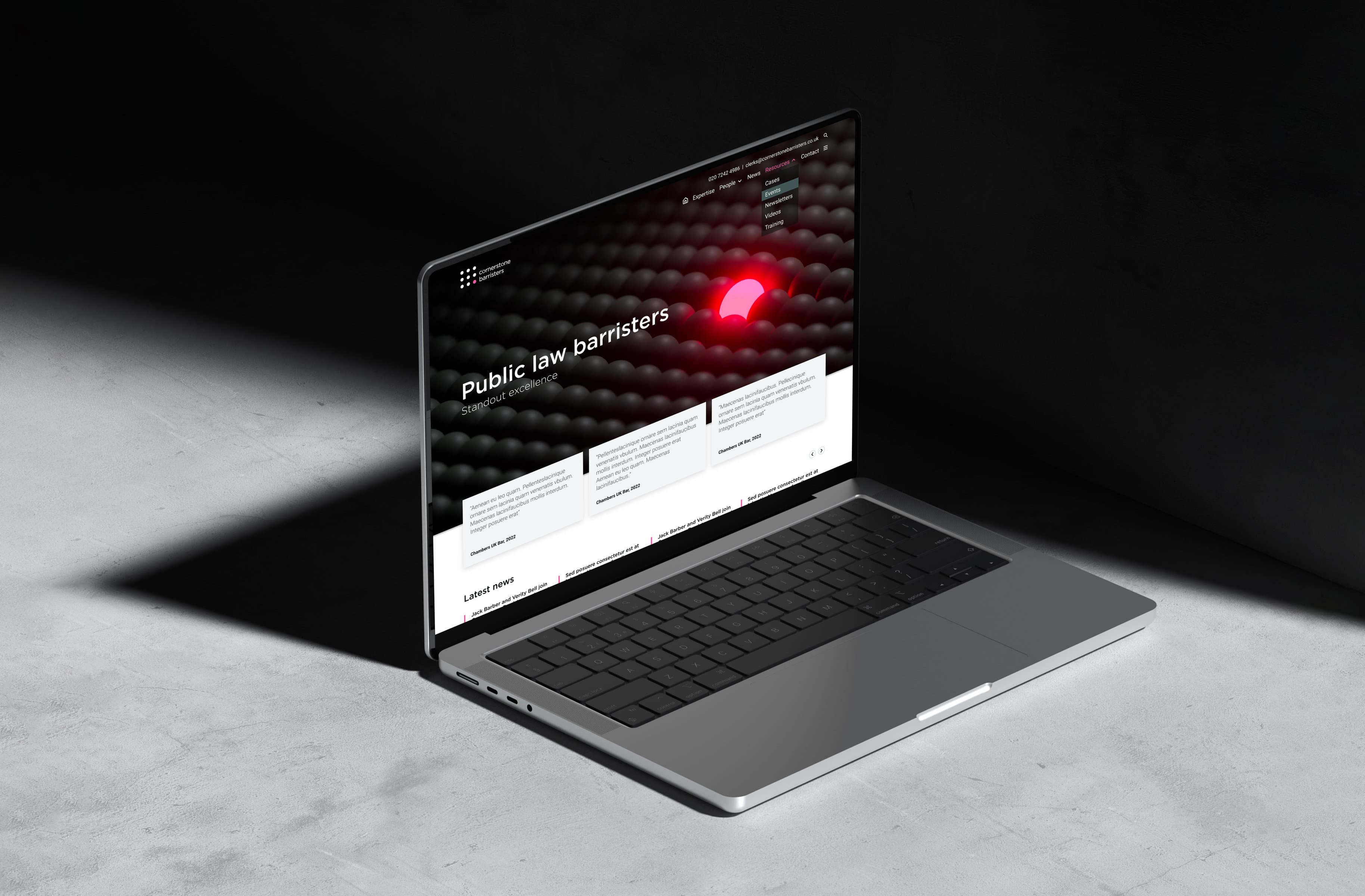 We retained the existing Cornerstone logo, but otherwise redesigned their site from the ground up, using the WordPress platform and our 20+ years' experience of building websites for leading barristers' chambers and law firms.  Features included searchable and filterable people, news and event archives;  attractive barrister profiles with user-friendly interfaces for handling information and automated PDF downloads;  resource libraries and training videos;  practice area profiles;  privacy any other compliance policies and cookie consent system;  and a highly polished, easy-to-use content management interface.
We are thrilled that our eye-catching new website has been recognised by the Web Awards. It is particularly pleasing given that the judging panel consists of professionals from globally known companies such as IBM, Adobe and CBS. Since our relaunch, we've received an enormous amount of positive feedback from members and clients for the website's sleek design that is uniquely Cornerstone.
On this project, as is often the case, Cornerstone wanted to ensure that all their members had the opportunity to make themselves heard. They also wanted input from their clients.  We crafted multiple questionnaires to collect input from different groups of people; used design feedback tools to interact regularly with key decision-makers;  presented work-in-progress to a full meeting of Chambers;  and synthesised the feedback to inform the design direction.
The new website design left the generic cityscapes of the previous version behind and focused on chambers' desire to stand out. We created an original animation to project a first impression of relaxed dynamism and individuality.
Cornerstone was particularly keen to present its members in the best possible light.  One of our recommended photographers, Anna Batchelor, was commissioned for new portrait shots and to produce composite / group images for use as hero images around the site.  Hair and make-up services were enlisted which not only ensured everyone looked their very best but also helped people relax before they were in the spotlight.
For other imagery used around the site, we sourced and selected photos from stock libraries, but then edited them with Cornerstone's brand colours to make them feel impactful and original.
About the Web Marketing Association WebAwards
Since 1997, the Web Marketing Association's annual WebAward Competition has been setting the standard of excellence for Website development. Independent expert judges from around the world review sites in 86 industries. Only the best are recognised with a WebAward. The WebAward Competition is the premier award recognition program for Website developers and the online marketing community.
Need help with your project?
If you're a law firm or barristers' chambers looking for help with a branding, website design or development project, please get in touch with Katharine Horsman.