For years we offered clients our own bespoke CMS.  But WordPress became too good to resist.
As of November 2016, WordPress powers c.60% of all websites that use a content management system (CMS);  the next most popular is Joomla with 7%.  Once thought of as a blogging tool, it can now be used for any kind of website, and is the choice of several Fortune 500 companies.  At the same time its ease-of-use and straightforward dashboard make it a natural choice for any small business, individual or non-profit.  And, with our polished customisations, it's great for law firms too.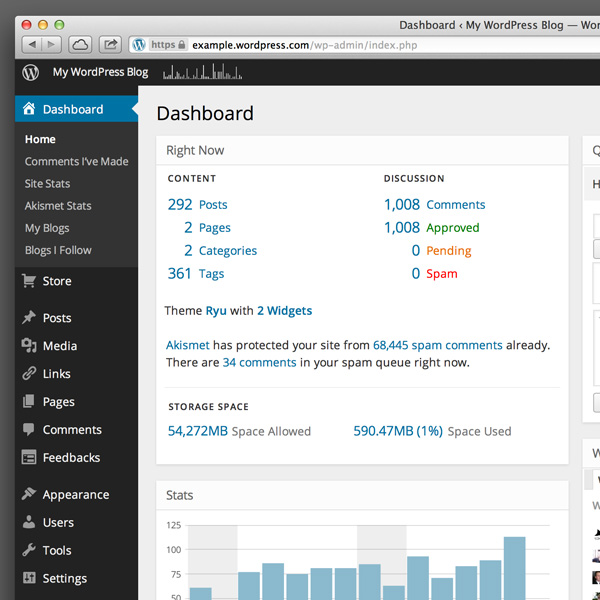 It needs to be simple to edit, and low maintenance.  It should promote your experience and perform valuable functions, answering questions and eliminating paperwork and repetitive tasks.  Easy to find via Google, and tightly integrated with your social media and email marketing.
Look great on all popular browsers, desktops, mobiles and tablets.  Load quickly.  Be safe from hackers.  Legally compliant.  Well documented. Easy to extend in future.  Oh, and affordable too.
Luckily this is the kind of project we enjoy:  beautiful, corporate websites that are full of information and marketing features, made as easy to manage as possible using the WordPress platform, for law firms, non-profits, SMEs or other 'non-technical' site owners.
With our developers, designers, content editors and project managers, we have all the in-house skills and experience to run a typical corporate website project as a well-drilled unit.  Where you might need specialist experience in a particular area, we have a wide network of trusted freelancers and contacts to call on.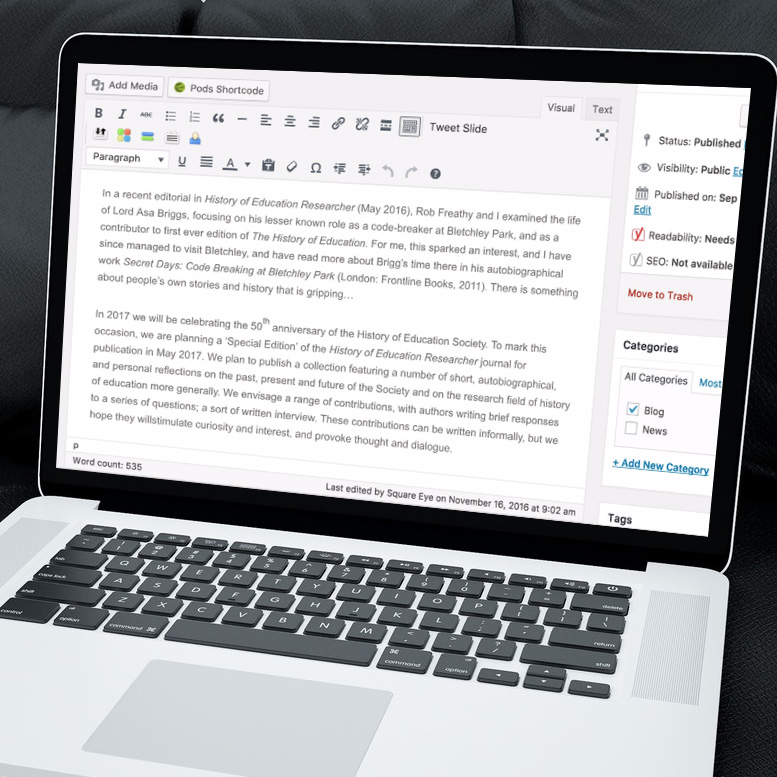 Easy to use
No software would get a 60% market share if it wasn't easy and pleasant to use.  It's aimed at non-technical site administrators rather than developers.
Robust
Automattic, which publishes WordPress, is a billion-dollar company.  You're not entrusting your site to a platform that might disappear on you.
Extendable
Because WordPress is so popular, there's a huge ecosystem of available plugins to add functionality to your website at little or no cost.
Open source
WordPress is open source meaning that anyone can edit its code, so there are no restrictions on what can be done to it.
Affordable
WordPress itself is free, and although it may require ongoing support, and many add-on functionality plugins have license fees, they tend to be very modest.  Overall, you're embracing a low-cost model compared to corporate CMS packages.
Training & resources
And also extensive written and video tutorials from the popular WordPress community, making it easy to educate WordPress users, and helping developers solve problems easily.
Design
If you're on a tight budget you can buy a site design off-the-shelf, from thousands of options.  But there are no limits with WordPress:  it can power any kind of site with any kind of custom design.
Hosting
There are plenty of hosts that specialise in WordPress websites, and tailor their infrastructure to give them maximum speed, security and performance.  (We use WPEngine, one of the best.)
Customisable
WordPress is easy to customise meaning the admin dashboard can be tailored to your exact tastes and needs.  No square pegs in round holes here.
SEO-friendly
A basic WordPress installation is already optimised for indexing by Google;  and certain plugins and tweaks make it better still.
User privileges
WordPress comes out-of-the-box with a user privilege system, allowing you to give different editing powers to different members of your team.
Developers
As WordPress is so popular, if you ever need to find a new developer or agency to support your site, it won't be difficult.
"It takes me about half as long to produce a story as it used to."
"Easy to work with, patient when I didn't quite know what I wanted, and really helpful in increasing my own knowledge and skills in using WordPress."